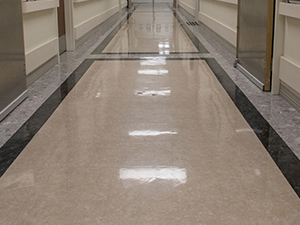 Dull, Dirty-Looking VCT and Linoleum Restored to Like New!
VCT (vinyl composition tile) and linoleum floors, usually found in hospitals, restaurants, and industrial facilities, are subject to high traffic and use and require daily janitorial services. Over time, VCT and linoleum floors can develop a dull and unattractive appearance, which can not only affect the morale of employees but leave an unprofessional impression on guests or patrons.
Our Deep Cleaning and Refinishing Process
We deep clean VCT, luxury vinyl, and linoleum floors using a commercial floor machine mounted with brushes and neutral floor cleaner. The brushes rotate at high speeds to extract soils, contaminants, and leftover coatings. Then we burnish the floor replacing the brushes with burnishing pads that also rotate at high speeds to buff and polish the surface of the VCT tile or linoleum to a beautiful sheen.
Specialty Coatings
Ask us about our state-of-the-art coatings to not only preserve the polish but are chemical resistant, increase CoF (Co-efficient of Friction) and have anti-microbial properties, making your floors safer.
We can restore dull, dirty-looking VCT and linoleum floors. Our expert technicians can deep clean and burnish your floors to a beautiful, reflective finish. Contact us online or call (239) 455-1167 for a FREE estimate on services throughout South Florida – Port Charlotte, Ft. Myers, and Naples. We will travel up as far as Sarasota.