We've been cleaning and restoring since 1993.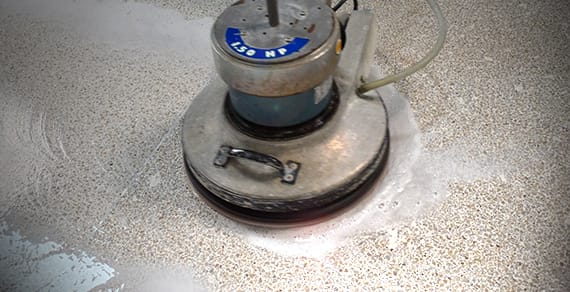 We are professional cleaning and restoration contractors who work wonders with natural stone, concrete, terrazzo, VCT, linoleum, tile and grout, and carpets (commercial).
You may know us as Cleaning Edge. For many years we serviced the Naples area with that company name. Our customers kept suggesting to us that the name Cleaning Edge sounded like we were a janitorial-type cleaning company. But we are much more than that. Hence the name change. Same people. New name. CEI (Cleaning Edge, Inc.) Surface PROS.
We've built a solid reputation for ourselves through our commitment to an honest and long lasting relationship with each and every customer. Your floors need periodic maintenance, and when the time comes, we are here for you. The experienced and highly trained technicians at CEI Surface PROS can restore your interior and exterior floors, countertops, and other surfaces to look new again and help you keep them looking great for a long, long time.
Our quality service entails so much more than just getting the job done. It means following up when we say we will, being respectful of our clients' time and property, using only high quality products and proven methods and educating our clients on proper follow up maintenance.
—Randy Frye, Owner
Our best source of new business is from our existing customers.

That we are highly recommended is evidenced in the fact that most of our clients come from personal or professional referrals. Our existing customers confidently refer us because we work as a team, come prepared with high quality equipment and supplies, and are extremely committed to providing our clients with outstanding results.
Credentials and memberships
1.
Certified SurpHaces PRO Partner
As a SurpHaces PRO Partner, we have signed and adhere to a Pledge of Professional Integrity and are part of an international network of seasoned professionals that must meet quality standards which include proper training and experience, excellent references, proper licensing and insurance.
2.
Safe and Compliant Company
Our employees and clients are important to us. We adhere to a Safety and Health program designed to keep our technicians and clients safe in the workplace. This includes employee awareness of safety hazards, health and accident prevention, and regularly scheduled safety meetings.
3.
Training and Certifications
We are quite passionate about what we do and stay on top of the latest technologies and solutions for floor and surface care. This means we regularly attend training and gain certifications on products and techniques so that we can offer the best possible solutions to our clients.
Our team
Co-Owner

Co-Owner