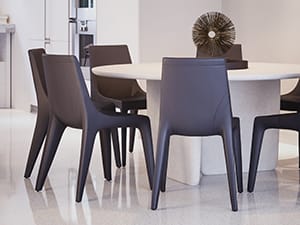 Terrazzo Repaired, Polished, and Restored to Like New!
Popular in the 50s and 60s, terrazzo is making a comeback. Terrazzo that is yellowed with layer upon layer of wax build-up or has been buried for who knows how many years under carpet, linoleum, or tile may not look like it can be restored. But we can hone and polish your terrazzo floors to reveal the brand new surface that lies beneath so your colorful little specks of marble glisten once again.
Natural Polish Versus Waxes or Coatings
Terrazzo is a unique stone finish that usually contains marble chips of different sizes and colors and is held together with a cement base or, in newer applications, held together with a resin or epoxy base. It is restored using the same process that is used in restoring marble and granite. Most terrazzo surfaces, coated with waxes that have a tendency to yellow and collect dirt, are repeatedly stripped and re-waxed.
Fortunately, terrazzo can be polished to achieve a gloss or matte finish using a natural polishing process that eliminates the need to wax and strip and can actually reduce the maintenance cost. Properly sealed and maintained terrazzo retains its beautiful shine and color.
We resolve terrazzo problems, such as:
Stain and Etch Removal
Restoring or Changing the Finish
Crack and Chip Repair
Sealing and Protecting
We can restore chipped, cracked, yellowed or dirty-looking terrazzo. Our expert technicians can grind, hone and polish, densify, and seal your terrazzo to a beautiful matte/satin or glossy, reflective finish. Contact us online or call (239) 455-1167 for a FREE estimate on terrazzo polishing services throughout South Florida – Port Charlotte, Ft. Myers, and Naples. We will travel up as far as Sarasota.